Compelled to Write And Loving It, Even the Hard Days
I've been invited to speak at a rotary group about my writing career, my book and the writing process. The opportunity is a good one. I can't think of a subject that I love more than my book and my writing.  The difficulty with speaking is what to say? Okay, those of you who know me….can it. I'm a good public speaker…really, I am. I might not always say what folks want to hear, but I can tap my showmanship.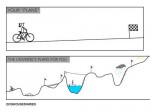 I've been having several conversations with the dogs about what exactly to cover. I have half an hour and I'd like to leave time for questions. I'm running ideas and doing a lot of thinking about my journey as a writer. You know I've wanted to write since I was young. Why did it take so long to arrive here?  Life has a funny way of getting in the way of your plans. Anyone else experience that? A friend of my recently posted this….apropos.
Writing is a scary proposition. No matter if you're writing non-fiction, memoir, or fiction, you're hanging your butt out there for the world to read. It takes a while to work up the courage to finish something, let alone put it out for public perusal. It's easy to let little things to interfere with that process.
I think that the need to write builds up over time. It pushes against the barriers we put up. The need stomps on the doubts we nurse. Pretty soon, we write. Some days the words flow, somedays the screen stays blank. The joy of writing, even on the hard days, is just that….a joy. This is my calling. I write books, short stories and on some days, terrible poetry, not often though.
I'll figure out what to say about myself as a writer and the process it took to arrive at publishing my first book. It's not the scariest thing I've done. I did that already. The Esau Emergence It's all down hill from here.