Morning Eight: Highs and Lows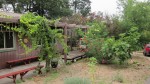 I struggled to stay awake to enjoy the company and fabulous music, but my eyes….wouldn't….stay….open. The picnic, the wine, the laughs….wiped me out. I slept well and woke up to the misty, Sonoma morning. The dogs and I snuck out for a four mile walk. It was great and cleared my brain of the swirl that was my low point last night. Windsor, Colorado was the focus of two feet of hail in less than an hour last evening. The weather stripped our landscaping of all the leaves, damaged the cars and damaged our siding. Dear Hubby sent photos….it was a bit to process from so far away.
One of the rails on the tent trailer broke from the frame. That makes moving the slide out in and out extremely difficult and nearly impossible by myself. Unfortunately, it's the back side, so I can't even keep the trailer hooked up and use the back. The other thing is that figuring out that a four or five hour drive is perfect and adding that to my desire to drive down Hwy 1 through Santa Cruz, San Luis Obispo and Santa Barbara made our drive to L.A. a full eight hours. That math works out to mean a stop in Morro Bay for a four or five hour drive. I also want to stop  at Santa Cruz Coffee Roasters to see my favorite coffee place in person.
The other thing that I knew was coming up was the difficulty of having the dogs in L.A. I was planning on a three day visit with family, but everyone is allergic to the dogs. The overall sense was that the dogs were a great addition to my solo trip as protection, but of course, traveling with them has added an element of work. The city poses an interesting problem….no camping. I'll be staying at my grandmother's and the girls will be in the kennel. I can walk them every morning, but it it means that I've decided to cut my L.A. visit short. I'll be heading out to Lake Pleasant, Az on Wednesday. The stop in Morro Bay means a day less and leaving Wednesday shortens the visit even more. Plans change.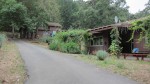 I was feeling overwhelmed by all of this last night. I couldn't find a campsite for our additional night. I don't have problems with changing on the fly, but once I'm improvising, I like to get things lined up. I felt like Dear Hubby was knee deep, literally, in hail damage all alone. The book tour has taken a pause…not a bad thing because I adore Will and Wendy. It just piled up. That was part of the reason I had to go to bed. Sensory overload.
Great thing about sleeping well, getting a long walk in and spending the morning with wonderful people…it clears the mind. We have a campsite in Morro Bay. I figured out my plan for L.A. and made arrangements for a hotel in Gallup, New Mexico…the only other stop I would've needed the camper. It wasn't a part of my plan, but plans change. Ah well, it's lined up and ready to go. We'll hang out here for a bit…put the camper down then work our way down the road.