Groan, umph, grrrr………day five and feeling it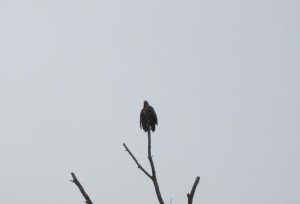 I posted this morning in a light drizzle with this little guy hovering over my back. He wasn't little. It grew into a full fledged rain and we quickly struck camp in the wet.  Can drizzle pour? In any case, can you say wet dogs in the Jeep for several hours? Yeah. We missed Voodoo donuts, but landed in Creswell, Oregon at the Rocket Inn. Supreme diner food…I think a patty melt is a bit healthier than a maple bacon donut….it might be a wash. Mary, our waitress, was fabulous and enthusiastic….she introduced me to the entire restaurant promoting the book and the book tour.
As we approached the mountains, it became apparent that Oregon is also burning. Okay, Colorado was not on fire when I left, but it had been. The smoke was extremely thick and trapped in the mountains. It was sad, choking and exhausting….and we don't even live here.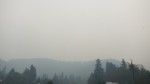 We finally hit the line of headwind that pushed the smoke behind us, but a guy at the gas station outside of the Illinois River Fire said it just depends on the day. Everything smelled like smoke.
The Redwoods came up fast and slowed us down. Once again, amazing drive, amazing place. At last we hit the Pacific ocean!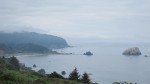 Oona freaked out a bit at the sight of all of that water….she's not doing so well with the forest either! In any case, we're set up in the Redwoods….tomorrow heads us into Calistoga and our friends, Wendy and Will. I have to say….five days in this camper is wearing on me. Roughing it has its appeal….now it's worn thin. I like the idea of camping, but I'd really love to pull in…get a few things settled and open the door. I'm in need of a long, hot shower and clean laundry. Oh, not complaining, just beginning to feel the trip. No yoga, no running, no full 8 hours of sleep…..that whining done with….I've met some wonderful folks who are excited about the book and am heading into a three day stretch with friends.
After that….a short stay with family and then on the road again. Five days…..moving into day six. It's going fast! Part three of yesterday's post is still brewing. I think it's turning into a creative non-fiction piece.