Walkabout Wrap Up: Close the Book On the Book Tour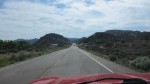 The last day of my trip finds me at my parents' house a mere three hours away from home. Given our upcoming hail restoration, the camper is going to stay down here. James L is going to take a look at the camper and see about doing some needed repair work. It did its job well and we'll be offering it up so that some new folks might find their own adventure.
I spent the morning over coffee with my cousin, MJ and while the idea of spending some time in Santa Fe was alluring…getting closer to home was weighing on my mind. Dear Hubby is needing some moral support…he's the detail worry person and I'm the detail zen person. We're both motivated and capable. I've adopted a more se la vie, que sera sera attitude. Son 2 hates it when I say it, but….it is what it is.
The dogs are out on the back porch, but they'll sleep inside with me. Pets are typically banned from the parents' place, but as the girls successfully completed their 13 day guard duty, I think my folks are feeling a bit lenient this time around. I'm working on the post at their kitchen table with a view of the thunderstorms sweeping through. The folks are watching a mix of Fox News and some kind of motorcycle reality program.
I'm thinking about getting home tomorrow and a bit afraid of what I'm going to find. I'm relieved to be getting the girls home and hitting my own bed. I miss my hubby and my house. Hell, I even miss my boys , but I'm also sad to say that my Walkabout is over.
I've traveled six states in 13 days. I've put approximately 3500 miles on the Jeep. I talked to everyone I met about my book. I met some fascinating people. I moved my daughter to L.A. and visited family and friends. Over the course of the trip, I mapped out my sequel, planned characters and a rough plot for the last novel of the trilogy, and started thinking about a screenplay. I'm a little overtired and a lot done with driving.
There are a couple of things I would've liked to happen on this trip…of course, I'd love to have kept my three days in L.A. visiting my family and helping the dotter get more settled. That includes meeting up wtih my friend Elizabeth…shout out to Elizabeth! I passed a place in Arizona called Arcosanti….I've always wanted to visit the experimental community started in 1970 by Paolo Soleri as a haven for artists, architects and other creative thinkers with an idea to preserve and protect society from urban sprawl. I had time….I just let my second guess get the better of me. Also, it was 104 and I had the dogs in the car, shrug. The lack of cell service and internet was a crimp in our plans.
All of that….and that's not really much, this trip has really been a wonderful experience. I discovered that retired NSA agents look like Keebler elves. I found out that Oregon farmers have incredibly wide interests…water tables, philosophy, tattoos and stem cell research. I was inspired by folks on their own walkabout from Seattle. My story ideas were amped up by the hunt for medicinal fungi. I had a warm and charming conversation with Karen and Warren from Santa Rosa…they also spread the word on the book. Much thanks! As a result of diner food, our friendly waitress Wendy promoted me to the entire restaurant. I was fortunate to meet up with marketing agents who live full time on the road. And of course all of the dear people who I already knew and who have been incredibly supportive and excited about my trip, my pursuit of my writing career and of course, the first novel.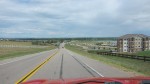 I can't wait to do it for the next book! A little bigger camper, a little further north (sorry Idaho) and hopefully a hubby to come along with me. Perhaps one less hail storm too. Read the book, leave a review and send me a Facebook message!