YAWN…..I've Got Nothing Pithy This Morning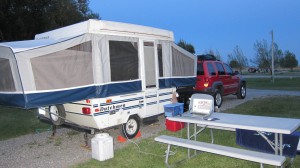 I woke up a couple of times to the sounds of the coyotes yipping and howling with great post titles. Finally decided to stop laying here and write….not a one comes to mind. I should get up and make my coffee. In any case, Monday night found our little troupe in Arco, Id. Not a bad little place, once the wind stops blowing. It was also the nicest camp site yet… Wind River was nice and the bathrooms were fabulous, but the Crater of the Moons KOA had it all going. Grass, nice table, great view…once the wind stopped blowing, few bugs and great bathrooms. Also, a dog run…they called it a park, but it wasn't a park. There was a nice long walk around the grounds and down the street a ways. It was great for me and the girls (dog girls) after that crazy drive.
I hate the wind. It can get windy in Colorado….really. Every time it does, I think of the scene in Centennial by James Michener where that woman goes mad in the sod house on the prairie….driven mad by the wind. I'm not a Michener fan, but he had that down pat. Driving in the wind is even worse for me….driving in the wind through some of the most characterless geography I've ever seen…I've driven through Nebraska, Nevada, Arizona, California, Wyoming….many more too. Idaho, sorry folks, ranks up there with Utah. Teasing you with lovely, interesting character and then leaving you flat…ha ha ha, who says I need coffee….in the middle. 
I have to mention that at the KOA the book cover grabbed the attention of Wes from Seattle. He was heading out with is wife after a month on the road and couldn't leave without asking about the book.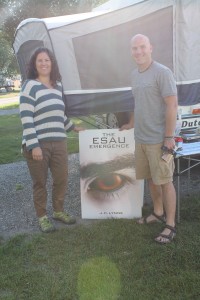 It was a great chat and I'm enjoying meeting people who are interested in the novel….really…no, I really am. I'm shaking hands and everything.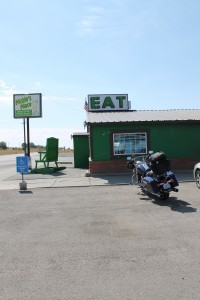 We chose to light out a bit earlier and eat breakfast. That holy, awe inducing cafe diner breakfast. That plan was delayed by some technical difficulties with the trailer hitch. Twenty minutes, some choice profanity and a bit of work on my part and we were on our way. We basically drove across the street to Pickle's Place. Yep, a little green building with a GIANT green rocking chair that promised the world's greatest Atomic burger (remember it's nuclear experiment country) and world famous fried pickles. Where else would we eat breakfast? I succumbed to diner pancakes….yep, it took me all day to process that, but it was worth it. Also, best fried pickles ever.
Craters of the Moon was right on our route, so it seemed silly not to take the extra time to check it out. I also was able to talk to some other people who we camped next to at the KOA. It felt a little like a Disneyland ride, until we got out to climb up an ash pile. Remember this was a HUGE volcano….it wasn't an ash pile. It was a mountain….okay, a very large hill. The monument is spectacular….lava fields, lava tubes and caves. We skipped the caves…I'm not a cave fan. Oh, I think caves are groovy and fascinating….I just don't want to be in one.
Idaho broke into Oregon and like someone drew the line, the geography opened up into interesting again. We followed the river to Burns, Idaho and pulled into Crystal Cranes Hot Springs. I think next year, when the next two books drop, four hour drives will be on the schedule. This six hour plan is really turning into 7 or 8 with stops…too long! Oona did a potty dance, no lie, a potty dance. I read the signs and made the stop. Also, Beard…motorhome or airstream. The tent camper is losing it's allure….just saying. Okay, hot springs….yummy. In fact, I'm going to take a dip momentarily….before coffee. Did I say I don't need coffee? Nope, I need some coffee!
Today's plan….swim, COFFEE, head towards Harrisburg, Oregon….a four hour drive. We'll see. It's very close to Corvalis and there are some hot springs in the area. Also, a grocery store. We need some supplies. Amazing how when you want a grocery store, you don't see one.
Keep an eye on the facebook page….there will be albums, perhaps I'll figure that out tonight. Eugene includes a bookstore stop, so that should be fun. The dogs don't know what to make of all of this, but they're being so good!
Signing off….read the book, recommend the book and thanks for taking the time to leave a review! Splash!