Caffeine…..The Gift Of The Gods!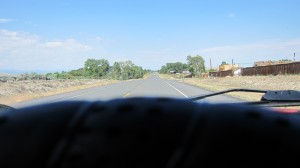 Rewind….opening scene…..wait, have to go back a bit further. Our night in Riverton was an eventful one. Thing to know: Quiet hours at camp grounds are more like guidelines especially when it comes to fireworks, fishing buddies and drunk ex-girlfriends. Yep, Riverton isn't a quiet town. Also, the dogs didn't know what to make of the camper, the noise and just about everything else including the 50 degree nights. Oona started shivering so badly the entire camper was shaking. I covered her up with a blanket and that settled our small earthquake. Kudos to our trainer, Megan…hi Megan! I'm a midnight bathroom break type, so whenI crept out to hit the head, the dogs figured it was time to go for a walk. Ascha bolted into the night without a leash. Thank goodness for the recall, even in a whisper. She came right to me! Whew! Dawn cracked a bit earlier than usual and I was up and moving despite myself….I'm an early riser AND a morning person.
Coffee was a must and went beautifully! That little Bialletti is a dream…even if the sprinklers did go off eliminating any need for a shower. I fed the girls and started to strike camp. I wanted to hit the road at 10….really at 10. It took a little dragging on my part…the Dotter isn't a morning person. I wooed her with juice, coffee and perhaps a bit of cold hand tickling. I waved goodbye to George and Barb…already awake and cooking bacon. Don't campground smell delicious in the morning? I spoke to our neighbors, whom I'd taught. I stopped in and chatted with Captain Joseph Pepper, USN (ret)…he doesn't look a thing like Bruce Willis…I didn't tell the dotter. I'm still modeling a character after him…quiet, unassuming RV park owner, ex NSA agent who could kill you with his thumb. I handed out a few giveaway cards and we were off.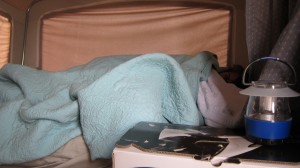 The road from Riverton through the Wind River valley to Dubois is stunning. I think dear hubby and I need to take that trip on the motorcycles….in fact, I think this entire trip needs to be repeated, with the exception of eastern Idaho, on the bikes. Dear hubby programmed the Garmin and wasn't sure if it was offering the scenic route….it doesn't get more scenic than Grand Teton National Park. HOLY SHEBANG!
Have I mentioned our constant torrential rainstorms? I think I did and our run continued through Wyoming. Not just rain…I'm talking thunder, lightening and plague worthy hail. It was fabulous! I'm certain that I came this way as a child….I vaguely remember Yellowstone. Truly, this landscape is wasted on the young. I felt like stopping every five minutes merely to stand. The drive took A LOT longer than planned….stopping, driving slowly through weather and later gale force winds. We stopped in Jackson Hole and played restaurant roulette….a game the dotter and I love, but the hubby not so much. Found a fabulous Thai place…Bon Appe Thai. I'll Yelp that later. More torrential rain….seriously a flash flood.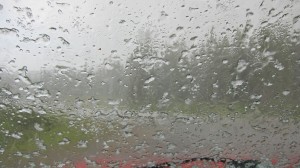 A crazy drive across Teton Pass Highway….glad we waited for the rain to pass because that would've been ugly…into Snake River Valley and Idaho. Once again….stunning AND where I should've planned our stop. We were an hour or so behind for the stopping, eating and waiting out the weather, but I had reservations…note to self, call ahead and cancel next time. The drive through Snake River Valley was spectacular and then….we hit eastern Idaho. Nothing against eastern Idaho, but I thought Wyoming was windy. Shite! We drove the next two hours in 60 mile an hour crosswinds through some plain ugly landscape. I was exhausted, the dogs were exhausted and the girls were exhausted….we drove through the INL experimental energy compound, which given all of the "We're Safe" signs, I took to mean Nuclear energy.
To be fair, the landscape isn't ugly….I love me some desert landscape….it's volcanic. If the wind hadn't been so horrific, I probably would've noticed that. We limped into Arco, Id…I put the camper up in record time. I showered, fed the dogs and collapsed in a heap. I would've loved a drink, but who knew Idaho is practically Utah on this side. Not me.
The dogs were remarkably sanguine about the camper last night, but the shivering was repeated. I brought three little fans thinking we'd be fighting the heat….nope, good thing I brought the three extra Mexican blankets.
Cue dawn…cue dogs. The dogs woke up early and I took them out for a walk…it's pointless to try for that extra hour of sleep when there's no place to put them. I'm caffeinated, the girls are stirring and I'll strike camp in a few. The book cover is out for all to see and hopefully, I'll hand out a few cards before we leave. The plan today is to take the Craters of the Moon 7 mile scenic rim drive….find breakfast….we didn't cross any grocery stores for juicing supplies…then head toward Crystal Cranes Hot Springs in Burn, Oregon. Think the fans might be handy there? We'll definitely stop for supplies….we've made a list and hopefully will arrive in time for a nice long soak. I forgot the yoga mat, so my body is rebelling against the lack early morning yoga. Sigh.
The girls are up and moving….complaining about my Facebook photos….look for the entire album at Jclynnenow on my Facebook page…The Beard is working on that from the home office. Oh and props to Dear Hubby/The Beard for supporting this circus trip because without his encouragement, tech support, and sighing, head shaking resignation, I wouldn't be out here with a book published, on a book tour, in a camper, with the dogs or the girls. Oh, just schmoozed a departing camper! They saw the book cover and stopped to ask….sweet! So a quick shout out to Wes from Seattle….safe journey and enjoy the book!