Day One Out of The Gate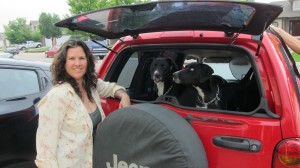 Leaving today took a bit longer than originally planned, but then doesn't almost everything happen like that? It was raining. The dogs were squirrelly with no idea what was going on. Son 2 and I had a difficult time saying good bye. Off we went, nonetheless. The drive was fairly uneventful, except for the twenty times we had to stop because the dotter's hood kept flying up. Wyoming is windy. If you didn't know that….now you do. Crazy windy.
A few week ago in an act of perfect timing, the dotter rear ended someone just enough to cause damage to her Saab that was close to the border of "Nope, not going to pay that." Dear hubby, a mechanical genius, MacGyvered it as best he could. Believe me, his MacGyver job is better than most brand new, right out of the box conditions. However, the Wyoming wind took its toll. We spent most of the drive at about 60 miles an hour.
Lunch found us in Laramie…..not much in the way of vegan fare in Laramie. This is beef country. As the numerous bumper stickers reminded us. We managed with a quick bite at Wendy's, but the veggies, hummus and wine is putting that to rights. I managed the camper…it's up, hooked to water and power. In the pouring rain, I'd like to add. Funny enough, we drove six hours to pull into a camping site right next to one of my ex student families. Actually two of my ex students with their family. How's that for six degrees?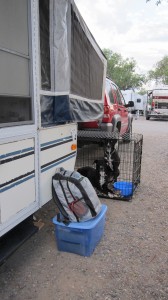 I met some readers, Barb and George. Folks at the RV park like to chit-chat. First thing, the neighbors across the way waved and introduced themselves. I chatted up the book and they asked for a give away card. They're Kindle readers, so not too concerned about the print copy. Barb is interested in putting together a book that tells her father's story incorporating his letters home. Everyone has a story!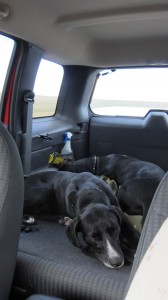 The girls….the dog girls…don't know what to make of this escapade. They were pretty nonplussed by the truck, but kept looking for the dog park. We'll see how things go tonight in the camper….me, the young women and the girls. Whew!
Note to self: next time put the wine key IN THE BOX instead of carrying around the kitchen. Dotter needs a specific type of scissors to open a bottle of wine. When reminding the girls…the human girls….to bring a jacket, bring yourself one. Teapots aren't really useful without the tea. An extension cord would be helpful. An extra set of plates would be nice, but aren't necessary and dish soap might be helpful if you want clean dishes in the morning.